COVID-19 Updates
The Township of Ignace is working with our local health experts and emergency management team to address impact of COVID-19 pandemic. We are taking the necessary and appropriate actions to respond on a daily, if not hour by hour basis. We are committed to continuing service levels where possible with safety of both Township staff and our residents as our priority.
The following Township buildings and facilities are closed to the public until further notice:
The Recreation Centre
Ignace Public Library
All Outdoor Recreation Facilities
All Trails
All Burning Permits suspended
The following services are operating and modified to suit the situation:
Council meetings are being held virtually.
Curbside collection for residents and commercial
Water delivery
Cemetery burial arrangements
Bag tags available at Shoprite
LATEST UPDATES
The Ignace Recreation Committee is pleased to announce another special curbside pick-up day. Next Thursday May 21st all households may dispose of 2 regular bags of garbage at no charge. A big thank you to the Emergency Operation Control Group and the NWMO for making this possible.

Download Poster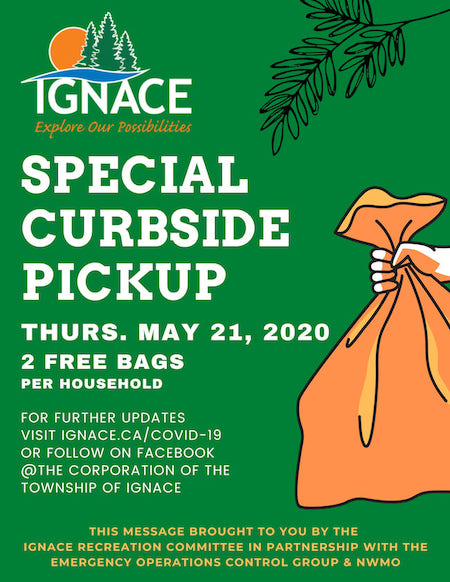 Other Important Links