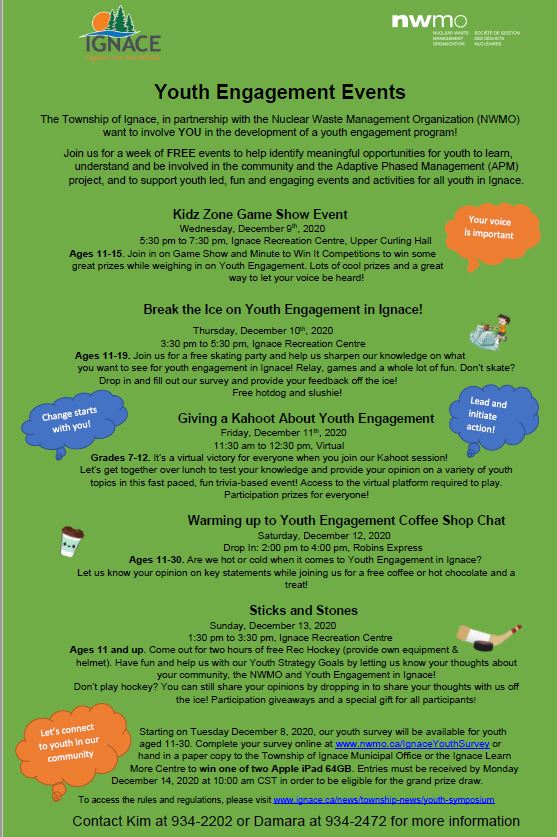 The Township of Ignace, in partnership with the Nuclear Waste Management Organization (NWMO) want to involve YOU in the development of a youth engagement program!
Join us for a week of FREE events to help identify meaningful opportunities for youth to learn, understand and be involved in the community and the Adaptive Phased Management (APM) project, and to support youth led, fun and engaging events and activities for all youth in Ignace.
Kidz Zone Game Show Event
Wednesday, December 9 , 2020
5:30 pm to 7:30 pm, Ignace Recreation Centre, Upper Curling Hall
Ages 11-15. Join in on Game Show and Minute to Win It Competitions to win some great prizes while weighing in on Youth Engagement. Lots of cool prizes and a great way to let your voice be heard!
Break the Ice on Youth Engagement in Ignace!
Thursday, December 10 , 2020
3:30 pm to 5:30 pm, Ignace Recreation Centre
Ages 11-19. Join us for a free skating party and help us sharpen our knowledge on what you want to see for youth engagement in Ignace! Relay, games and a whole lot of fun. Don't skate? Drop in and fill out our survey and provide your feedback off the ice!
Free hotdog and slushie!
Giving a Kahoot About Youth Engagement
Friday, December 11, 2020
11:30 am to 12:30 pm, Virtual
Grades 7-12. It's a virtual victory for everyone when you join our Kahoot session! Let's get together over lunch to test your knowledge and provide your opinion on a variety of youth topics in this fast paced, fun trivia-based event! Access to the virtual platform required to play. Participation prizes for everyone!
Warming up to Youth Engagement Coffee Shop Chat
Saturday, December 12, 2020
Drop In: 2:00 pm to 4:00 pm, Robins Express
Ages 11-30. Are we hot or cold when it comes to Youth Engagement in Ignace? Let us know your opinion on key statements while joining us for a free coffee or hot chocolate and a treat!
Sticks and Stones
Sunday, December 13, 2020
1:30 pm to 3:30 pm, Ignace Recreation Centre
Ages 11 and up. Come out for two hours of free Rec Hockey (provide own equipment & helmet). Have fun and help us with our Youth Strategy Goals by letting us know your thoughts about your community, the NWMO and Youth Engagement in Ignace! Don't play hockey? You can still share your opinions by dropping in to share your thoughts with us off the ice! Participation giveaways and a special gift for all participants!
Starting on Tuesday December 8, 2020, our youth survey will be available for youth aged 11-30. Complete your survey online at www.nwmo.ca/IgnaceYouthSurvey or hand in a paper copy to the Township of Ignace Municipal Office or the Ignace Learn More Centre to win one of two Apple iPad 64GB. Entries must be received by Monday, December 14, 2020, at 10:00 am in order to be eligible for the grand prize draw.
Rules and Regulations
Youth Engagement Survey Draw Rules & Regulations
NO PURCHASE NECESSARY. This draw is sponsored by the Township of Ignace, with offices at 34 Main St, Ignace, ON P0T 1T0 and the Nuclear Waste Management Organization, with head offices at 22 St. Clair Avenue East, 4th Floor, Toronto, ON M4T 2S3 (together, the "Sponsors"). By selecting the option to enter this draw on the survey form you submit in accordance with section 2 below, you agree to be bound by these rules and regulations (the "Rules"). If you are under the age of 18, by entering this draw, you agree that you obtained the consent of your parent or legal guardian to do so.
Eligibility. To be eligible to win, you must be a resident (either seasonal or full-time) of the Township of Ignace between the ages of 11 and 30 years old and have completed the Youth Engagement Survey on or before Monday, December 14, 2020. Proof of identification, age, and residency must be provided upon request. If you are under the age of 18, you must have the written consent of a parent or legal guardian in order to be eligible to receive any prizes. Employees of either Sponsor are not eligible to win the prize.
How to Enter. To enter the draw, eligible entrants must submit a completed Youth Engagement Survey on or before Monday, December 14, 2020 by: (i) providing the completed survey to either NWMO's Ignace Learn More Centre at 304 Main St, Ignace ON, P0T 1T0 (the "LMC") or the Township of Ignace's Municipal Office at 34 Main St, Ignace, ON P0T 1T0 ("Ignace Office"); or (ii) completing the survey online at https://www.surveymonkey.com/r/89V38GK. By entering the draw, you agree to accept and abide by the provisions of these Rules and the decision of Sponsors. All entries become the property of Sponsors. Physical survey forms can be picked up from the LMC or be provided via email to print at home by contacting Chantelle Gascon at

This email address is being protected from spambots. You need JavaScript enabled to view it.

.
Draw Period. Draw period begins on Tuesday December 8, 2020 at 8:00 a.m. CST, and closes on Monday, December 14, 2020 at 10:00 a.m. CST (the "Draw Period"). Sponsors reserve the right to extend the Draw Period.
Prizes. There will be two (2) grand prizes awarded, with a total aggregate approximate retail value incl. tax of CDN $1760, consisting of a tablet such as the Apple iPad Air 64GB (wifi) or equivalent. Prizes must be accepted as awarded and are not transferable and have no cash surrender value. No substitution is allowed, except that the Sponsors reserve the right to substitute a prize of equal or greater value should the prizes become unavailable for any reason. Odds of winning will be determined by the number of eligible entries received during the Draw Period.
Selection of winners. Selections will be made through a random draw, held by the Sponsors at the LMC, at 4:00 p.m. CST on Monday, December 14, 2020, from among all eligible entries received by the end of the Draw Period for two winners. The selected winners will be contacted by telephone or email. If a selected winner cannot be contacted within seven (7) days, eligibility is not met, or the selected winner does not comply with these Rules, they will be deemed ineligible and another random draw will take place to select a winner for that prize. To win, selected winners may be required to complete a written declaration confirming compliance with these Rules and must answer a time-limited skill-testing mathematical question to be administered in person when receiving the prize or by telephone at a pre-arranged time. Prizes will be awarded and delivered to the confirmed winners by Sponsors.
Personal Information. No correspondence will be entered into except with potential winners. By voluntarily entering this draw and providing information required by the entry form and survey, entrants consent to the collection, use and disclosure by Sponsors of such information to administer the draw. Contact information collected by the Sponsors will only be used to award the prize and for no other reason. Notwithstanding the foregoing, the winners agree that their names, any statements made relating to the draw, and any photographs or other likeness of the winners may be used by the Sponsors for any and all purposes in any and all media, whether now known or hereafter devised, without further permission or compensation, including, without limitation, in any advertising or broadcasting material relating to the draw and/or future similar draws, except where prohibited by law.
All decisions of the Sponsors are final. No responsibility will be taken for entries lost, misdirected or delayed. By accepting a prize, the winners release the Sponsors and Sponsor Entities from any and all liability and responsibility with respect to a prize, arising out of or in connection with the receipt, ownership, or use of a prize.
Miscellaneous. Sponsors reserve the right to amend, cancel, terminate or suspend the draw (in whole or in part) if for any reason the draw cannot be run as planned. In the event that it is discovered that an entrant has entered more than once, the entrant will be disqualified and respective eligible prize claim will become null and void and the entrant will not be entitled to claim any prize. By participating, each entrant agrees that each Sponsor, its officers, directors, employees, members, and shareholders ("Sponsor Entities") are not responsible for any incorrect or inaccurate entry information, human error, failures, omissions or for anything, including but not limited to, the errors the survey, these Rules, the selection and announcement of winner or distribution of the prize, resulting from the participation in this draw. All intellectual property, including but not limited to trade-marks, trade names, logos, designs, promotional materials, web pages, source code, drawings, illustrations, logos, slogans and representations are owned or used under licence by the Sponsors.
Void where prohibited by law. The draw and these Rules are subject to all applicable federal, provincial, municipal, and local laws and regulations.