About our Community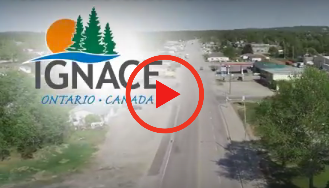 The Township of Ignace is located on the busy junction of the Trans-Canada Highway/ Highway 17 (2 ½ hours west of Thunder Bay and 5 ½ hours east of Winnipeg) and Highway 599 — Ontario's most northernly paved highway, leading north to Savant Lake, Pickle Lake and winter roads further north to many First Nations communities. It is on the eastern gateway to Ontario's Sunset Country in Northwestern Ontario and is a Northern Ontario's mineral wealth that is known as the 'Ring of Fire'. Situated on the shores of Agimak Lake, the Township of Ignace is a gateway to the remote rivers, lakes, waterfalls and forests that surround it. There are two white sand beaches on Agimak Lake — Agimak Beach and West Beach, with the latter having a floating dock that provides an enclosed area for swimmers. During the summer months there is an abundance of outdoor activities to enjoy, while in the colder months, the Township of Ignace transforms itself into a winter playground. Residents love to ski, snowshoe, ice fish and the Ignace Otters Snowmobile Club sponsors special events on the trail network.
Ignace is the perfect place to raise a young family or settle in for life's golden years. New residents have come to Ignace to work in our private and public sectors, to enjoy an active retirement, to explore job opportunities in tourism or to open small businesses. Our small town is a rich fusion of cultures where people from varied nationalities and backgrounds share their heritage. Ignace blends small town comforts and neighbourly folks who are always ready to lend a helping hand. We take pride in our northern hospitality combined with a wide range of conveniences and services that we have to offer. The beauty of the northern landscape surrounding a progressive and modern community makes Ignace a truly great place to live, work and play. The splendor of the stars in the clear night sky defines the spirit of the north, reflecting our spacious and abundant terrain.
The Township has recently rebranded itself and adopted a new strategic direction that will take the community beyond a short term and reactive approach to one that is more long term, proactive and sustainable. The community has a heightened sense of optimism for the future which is evoked by the strategic planning that is currently occurring along with the potential of becoming a host to the Nuclear Waste Management Organization (NWMO) for the construction and operation of a nuclear waste repository. This project has an estimated investment of $18 to $24 billion. The community is also promoting Highway 599 as the best route to the 'Ring of Fire' mining development and is in the process of positioning itself to benefit from its' proceeds. In light of all these activities, the Township believes that the community is going to blossom in the next few years. In anticipation of these upcoming developments, the friendly people of Ignace takes this opportunity to extend a warm welcome to YOU, as we invite everyone to come and explore our possibilities.