2022 Municipal & School Board Trustee Elections
Candidate Information
The Nomination Period Starts
May 2nd, 2022 – August 19th, 2022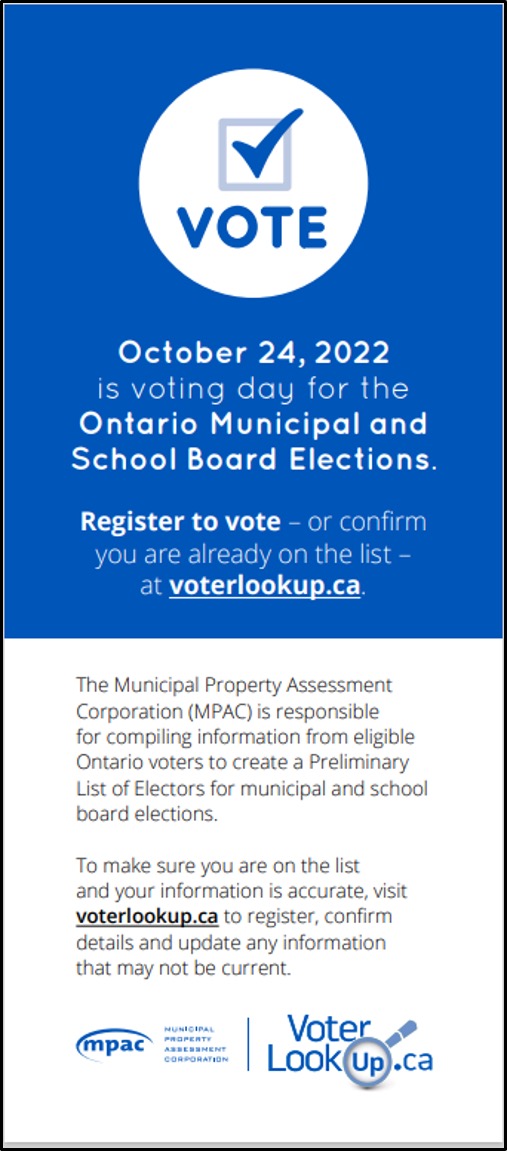 Nominations must be filed no later than 2:00pm (CST) on Nomination Day August 19th, 2022.
Nomination Packages Will Be Made Available at The Municipal Township Office 34 Hwy 17 West, Ignace, ON, P0T 1T0 Starting May, 2nd, 2022 Between Normal Business Hours. Completed Forms for Nomination Can Be Registered Starting May 2nd, 2022 Between Normal Office Hours with A Deadline of August 19th, 2022 'Nomination Day' By 2:00pm (CST).
---
Voter Information
Are you on the Voter's List?
Through voterlookup.ca, Ontario electors can take an active role in maintaining accurate and up-to-date electoral information to be reflected on MPAC's Preliminary List of Electors for the 2022 Municipal and School Board Elections. Eligible electors can update their information, add a name to an address, or change their school support.
Voterlookup.ca features a declaration component which requires the user to verify that the information is 'true and accurate'. In addition, specific information entered by each user on voterlookup.ca has to match-up to existing data maintained by MPAC before users are permitted to add their name or apply changes to their information.